Rocky Mountain Oils Review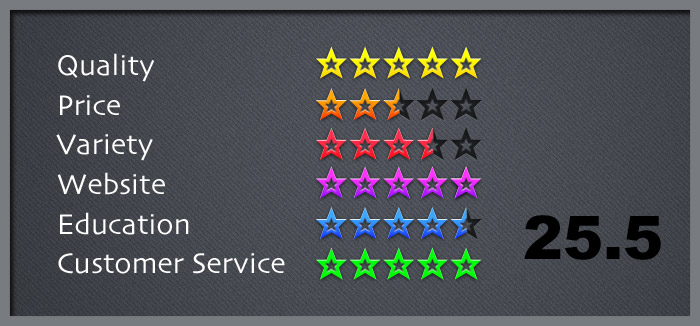 Rocky Mountain Oils scored a 25.5 out of a possible 30 points. Each company is given a score based on 6 main qualities and an extra point if they are a Fair Trade company. You can read a full description of our rating system for a more thorough explination. Rocky Mountain Oils is one of the best essential oils companies that we came across and we highly recommend their products.

Quality
Rocky Mountain Oils is committed to delivering the highest quality oils and they don't just say those words but prove it with their 100% satisfaction guarantee and back it by providing actual GC/MS test results free of charge through their website. To view the actual GC/MS test for your oil, simply enter the unique batch number found on the bottom of your bottle on their site and see the GC/MS test results. There is no other site we came across that provides this directly through their website.
They are also Guaranteed S.A.A.F.E. which is an acronym that stands for SATISFACTION GUARANTEED, AUTHENTIC, ANALYSIS, FREE OF ADULTERANTS, and EFFECTIVE & PURE. By offering 3rd party testing and sharing those results freely with the public in a way that is easy for people to access, shows that Rocky Mountain Oils is a company with nothing to hide and holds themselves to the highest standards possible because they care and committed to truly providing the highest quality oils. Information on how their oils are distilled can be found for each product while you are shopping.
Their transparency as a company is even reflected in their openly disclosing the truth that there are NO OFFICIAL STANDARDS specified for essential oils products sold in the U.S.A. as many other companies may subtly try to get you to believe. Rocky Mountain Oils has created their own internal standards of quality which involves rigorous testing. Find out more about their STANDARD OPERATING PROCEDURE 100GSOQ PROTOCOL.
Their return policy reflects this as well with 90 days, full refund and they even cover the shipping. This is unrivaled in the industry. They believe and stand behind their products.
Price
The price is really good for these quality oils but we did not take quality into account when comparing pricing between companies. We simply compared the price for a set amount of ml for 5 different commonly used oils. For this reason RMO comes in at 2.5 out of 5 stars. For household cleaning you may want to use less expensive oils but when it comes to use on your body or for aromatherapy these oils are excellent and well worth the price.
Variety
RMO has a great selection of both singles as well as blends. At the time of the writing of this review they have 78 single oils and 60 blends available for purchase through their website.
Website
The website is not only visually attractive but organized nicely and easy to use. Finding what we were looking for was simple and intuitive. It was easy to spot specials as well as starter kits for beginners that had a nice well rounded variety.
Creating an account was simple. When shopping you can add any items in your cart to a wishlist to save for later if you are not ready to process your order right away which is a nice feature.
At any time you can check on the quality of any oil you have ordered from RMO directly on their site by Inputing Your Batch Number located on the bottle. You will see the 3rd party test results giving you confidence when it relates to using RMO oils when it relates to your health. This is an incredible feature that no one else in the industry is doing on their website that we have come across to date.
Access to the educational elements on the site is easy to find and navigate. Shopping is a breeze. Images of the bottles and ingredients with zoom effect on hover as well as access to applications and uses are available on the product page. Verified reviews are also available letting you know what other real people are saying about each product.
The site loads quickly and adapts for different devices so it will look great on your phone, tablet, or desktop. Overall this is a great website with lots of special features that make shopping and learning easy and enjoyable.
Education
They make things very simple for those just starting out by providing a very basic explanation of the essential information you need to know about getting started with essential oils. For those that want more information they have a very well written blog. Also each product contains great educational information directly on the page. They don't overload you with excess information but focus their educational materials on making it simple to understand, quick to read, and easy to digest. You will not be overwhelmed and at the same time you will become very informed.
Customer Service
Phone Support
Our experience with Rocky Mountain Oils (RMO) customer service was great. They were quick to answer when we called and they answered all of our questions and pointed us to useful information. Everyone we spoke with was very knowledgeable and took their time talking with us as if we were their only customer. Even when asking very basic questions that were already answered on the website they were very patient and never made us feel rushed. On a different call asking more detailed and informed questions they were equally helpful and readily able to answer our questions.
Refund Policy
Rocky Mountain Oils has probably the best return policy we have seen online. There is a 90 day money back guarantee. If you are not satisfied with your purchase, simply return it within 90 DAYS for a FULL REFUND. Products can be returned for any reason, even if opened, for up to 90 days and they even will send you a return shipping label.
What Others Are Saying
People love RMO. There were so many 5 star reviews online it is hard to count. When we came across an occasional negative review it usually had something to do with a person having a problem with ordering on their tablet or phone and many people commenting after that they were not experiencing the same problems so they may want to check their internet connection. RMO staff was quick to respond to negative reviews and offer more than fair solutions ranging from offering to help them process an order by phone or offer full refunds if someone was not happy for any reason. Truly a sign of excellent customer service to be monitoring review sites and responding to their customers.

Have you ordered from Rocky Mountain Oils? Please provide your review below. We would love to know what your experience was.