Mountain Rose Herbs Review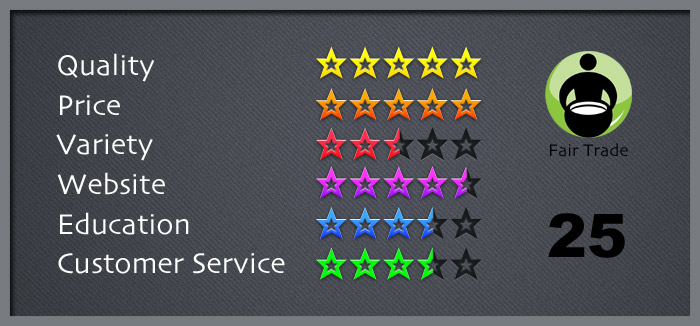 Mountain Rose Herbs scored a 25 out of a possible 30 points. Each company is given a score based on 6 main qualities and an extra point if they are a Fair Trade company. You can read a full description of our rating system for a more thorough explanation. Mountain Rose Herbs is one of the best essential oils companies that we came across and we highly recommend their products.
Shop for Mountain Rose Herbs on Amazon
Quality
Their selection includes certified organic, fair trade, ethically wild harvested, & Kosher certified botanical products. Their oils are are steam distilled. It is clear that they care about the quality of their oils by the ways they have made themselves accountable to third parties. There is a page on their website dedicated to Certifications where you can read about their OTCO & USDA ORGANIC PROGRAM as well as their commitments to be NON-GMO PROJECT VERIFIED, EARTH KOSHER, EARTHSHARE, FAIR FOR LIFE, SALMON-SAFE, and have converted to 100% renewable energy through CARBONFUND. This is a company that cares not only about the quality of their oils and herbs but about the quality of our world and the lives of others.
They pride themselves on providing certified organic or pesticide-free plant products that are sustainably harvested and vibrant, tasty, potent, and consistent herbal goods with the aim of exceeding customer expectations. They seek to provide a product that is proven safe through laboratory analysis. Their first choice when sourcing herbs is always certified organic. If organic isn't available, then they choose an ethically wildharvested or "cultivated without chemicals" option. Before the products are shipped to their facilities they require a "pre-ship" sample for analysis. When the herbs they ordered arrive at their facility, it is immediately quarantined for QC review. They extract samples for immediate testing in their laboratory. Before any product is made available to the public it has undergone rigorous testing ensuring the highest quality for their customers.
Information regarding their sourcing, testing, handling, industry involvement is made readily available on their website and upon your request, will even provide copies of their organic certificate, kosher certificate, certificates of analysis, pesticide residue tests, GCMS printouts, and MSDS forms when available. They really do want you to know the high quality of their oils and herbs.
Price
We compared the prices of a set amount of 5 different essential oils among the companies being reviewed focusing on price alone regardless of quality rating. While it is usually true that something that is higher quality costs more in this case Mountain Rose Herbs breaks the rules. They were priced more reasonably than companies with less quality control. Take into account that they are also fair trade and it is hard to understand how they still maintain such competitive pricing.
Variety
Although they do have a great variety of oils (113 as of last count) in comparison to some of the other companies they did not have as much variety. There were less blends than some of the other companies we reviewed so that was reflected in their score. With all that said they do have a great variety to choose from.
Website
We really like the website. It is well organized, not cluttered, and easy to find what you are looking for. Even the menu has nice imagery making it even easier to visually identify what you are looking for. Most sites just feature a text menu and try to pack too much information into a small amount of space. This site feels like breathing fresh air.
In addition to having a large selection of products that are organized well, they also offer monthly discounts and specials so keep an eye on those for special savings. The ordering process is very simple and you can store items in your account for later. In the footer of the website there is a well organized site map for those interested in education or finding out more about the company and their practices.
The only area where we felt the website could have been more useful is access to education related to individual oils and blends. It would be nice on the individual product pages to have the uses and other educational information such as recipes easily accessible instead of the extra step of having to search.
The site loads quickly and adapts for different devices so it will look great on your phone, tablet, or desktop.
Customer Service
Phone Support
Our experience with Mountain Rose Herbs customer service was great. If you contact them by phone they have a good answering machine service that allows you to get to the exact info you need but also does not give you the runaround since you can press 0 at any time to speak with a real person. It took less than a minute to talk with someone and would have been quicker if I did not wait to listen to all the options. They answered all my questions and had good knowledge of the company.
Refund Policy
There is a thorough return policy clearly outlined on their website. You have up to 60 days from the invoice date to return merchandise. All shipping charges become the sole responsibility of the customer, unless it is the error of Mountain Rose Herbs but they will refund the full amount of your purchase provided that the product was not tampered with or blended with another product. For other policies please see their website.
What Others Are Saying
There were mixed reviews that we came across. Many people gave them 5 stars and were very happy while others had a polar opposite experience. The reviews that were negative centered around issues regarding shipping and products being out of stock or not included in their order. There were also some negative reviews based upon certain oils smelling like other oils instead of the oils they were supposed to smell like. Customers said they were refunded for the cost of the product but not for shipping in certain cases and that it became increasingly hard to get responses from customer support. Others that had returns had a seamless experience.
Have you ordered from Mountain Rose Herbs? Please provide your review below. We would love to know what your experience was.
Education
There are several ways you can become more informed through their website and materials. They have a free 72 page guide that showcases their products, how to use them, and even offers recipes. They also have a section on their website where they have a list of suggested courses and recommended organizations for further education. You can also sign up for their newsletters as well as visit their blog which has a wealth of information from some very knowledgable individuals. While there are a ton of materials they point you to and connect you with, the education materials are not organized all in one place which would be nice.
Shop for Mountain Rose Herbs on Amazon