Plant Therapy Review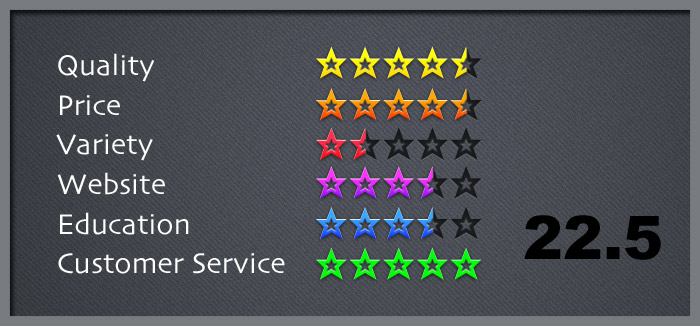 Plant Therapy scored a 22.5 out of a possible 30 points. Each company is given a score based on 6 main qualities and an extra point if they are a Fair Trade company. You can read a full description of our rating system for a more thorough explanation. Plant Therapy made it into the top ten best essential oils companies that we reviewed and we highly recommend their products.
Shop for Plant Therapy Oils on Amazon
Quality
Plant Therapy has several lines of products aimed at providing the best oils for the best purposes. They do have an Organic certified line of oils as well as a kid safe line. Some of the farmers they work with that do grow organically have not become organic certified due to the cost. For this reason only oils that have come from organic certified farms are marked organic yet others have come from organically grown plants.
Plant Therapy works directly with world renowned essential oil expert, Robert Tisserand, and several analytical laboratories. Oils are sent to one of several third-party laboratories where they undergo multiple tests including Gas Chromatography and Mass Spectrometry (also known as GC/MS testing). If they suspect that some of what looks like a natural constituent of an oil might be a synthetic addition, they use chiral analysis to find out if it is in fact, a natural constituent or a synthetic addition. They provide access to the GC/MS test for each batch they produce accessible from the products page.
They are very transparent with information regarding why they have made decisions in how their oils are made. For example their Bergamot oil is the only oil they carry that is fractionally distilled or redistilled. The reason they have chosen this path is because Bergamot is a highly phototoxic essential oil. Plant Therapy's Bergamot is known as bergapten free. This means that the chemical constituent that makes Bergamot so phototoxic, bergapten, has been removed from our Bergamot making it safe to use in the sun. Their care for their customers which also means the quality of their oils can been seen in their creation of a Kid Safe line of oils making it easy for parents to choose the right oils for their children.
Price
We compared the prices of a set amount of 5 different essential oils among the companies being reviewed focusing on price alone regardless of quality rating. Plant Therapy scored high in our cost analysis of 5 different essential oils. Considering the high quality of their oils this is an even more excellent value.
Variety
Plant Therapy did not have as large a selection as some of the other companies we were comparing them to but it is important to point out that they have a kid safe line which is unique and helpful to parents.
Website
The website was somewhat busy with links to the same things in multiple places but overall a good experience. It was still easy to find what I was looking for. They offer a daily deal on the website which was something we did not see other companies doing. The actual product pages are designed in a more minimalistic way then other areas of the site such as the home page and were easier to digest. All information regarding the product was readily available from the product page including the Test Reports.

Signing up for an account was easy. The account side of the website is very nice and you can save items for later by adding them to your wishlist. They also have a quick order feature that pulls up a form where you can add items quickly without having to navigate all over the website.

Another thing they offer is an Aromatherapy Marketplace that features handcrafted items such as necklace diffusers and Carrying Bags. This is in addition to their Accessories section which features more mass produced products.

We were not sure why there is not a link to their blog in the navigation bar but you can get there from the footer or by scrolling down on the homepage. This is the main source of education on the site so it would be able to access it from the nav bar.

The site loads quickly and adapts for different devices so it will look great on your phone, tablet, or desktop.
Education
The main source for education on the website is through the blog. The product pages did have descriptions and directions for use as well. The blog is kept up to date and contains good information. They have some nice categories like Make Your Own Monday, Wisdom Wednesday, and Feature Friday. The educational aspect was not as feature rich or organized as well but there nevertheless was a wealth of information in the blog if you dig for it.
Customer Service
Phone and Email Support
When we first called we had to leave a message. They called back within two hours and were very helpful and answered all of our questions.
Refund Policy
They offer free shipping for all U.S. Retail customers. Plant Therapy is dedicated to customer satisfaction. They offer a 90 day 100% money back guarantee. U.S. customers will receive a return label for free return shipping. Keep in mind that this is good for purchases made at www.planttherapy.com only.
What Others Are Saying
I was hard pressed to find any negative reviews about Plant Therapy. It seems like they are doing a great job and people generally love them. Many people claimed that their oils worked great for them. Some said they did not feel they were as good as the brand they were already using but this was common with most oil companies we reviewed. People are different and respond differently to different things. Blends are made slightly differently with each company. Overall people seemed happy with their experience with Plant Therapy.
We came across a post about Plant Therapy where they responded to a customer who was doing third party testing on oils and found that a sample of their Tea Tree oil was not in compliance. The response from Plant Therapy was amazing. They committed to "immediately go over our quality control measures and see how this could have happened and take corrective action right away." They pulled all of their Tea Tree Oil off of their website and from amazon until they could obtain a new batch. They also asked to have their latest batch included in her next test. The next tests that were preformed showed that they were in compliance. This is the sign of a company that really cares about their oils and their customers as the actions they took (pulling all their Tea Tree oil off the shelves) cost them a lot of money but also gained the trust of their customers and resulted in many new ones. Their decision in this process gained our trust as well which is why we recommend them.
Have you ordered from Plant Therapy? Please provide your review below. We would love to know what your experience was.
Shop for Plant Therapy Oils on Amazon