Amoils (Healing Natural Oils) Review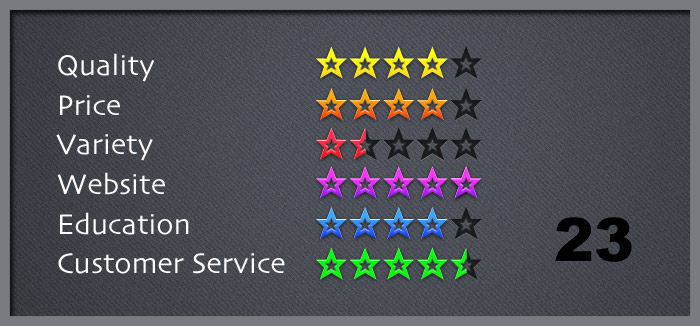 Amoils scored a 23 out of a possible 30 points. Each company is given a score based on 6 main qualities and an extra point if they are a Fair Trade company. You can read a full description of our rating system for a more thorough explanation. Amoils made it into the top ten best essential oils companies that we reviewed and we highly recommend their products.
Shop for Amoils Healing Natural Oils on Amazon
Quality
There is not a whole lot of information on their website regarding the quality of their oils. They do state that their products contain no pesticides, herbicides or any synthetic chemicals. They also make it clear that their oils are not tested on animals and no animal products are used in manufacturing the oils. While they do state that they use only the finest natural products, focusing on ethical production and using the best quality, natural ingredients available, there is no mention of any of their products being organic or where specifically they are harvested. We did send an email asking for some clarification on informations regarding quality such as their distillation process and if they offered any certified organic oils and are currently awaiting their response.
You can tell a lot about the quality of an oil based on if it works or not and one thing that we found out about Amoils is that they have tons of reviews from people sharing how their specific formulas worked and these reviews are not just on their own website.
Price
Amoils pricing was very competitive. They were not cheap by any means but a good price for a quality oil.
Variety
Amoils does not have a huge variety of oils to choose from. At the time of this review they have only 7 single oils. Their strength is in their blends. They have 33 blends that are named according to the health issues they address.
Website
We really like their website. It is organized well and love the way you shop for oils based on the health benefits or health issues you want to address. We also loved the way they have a close up image of the label on the bottle listing the ingredients in the blends and when you hover the image it zooms so you can easily read it. Google verified reviews for the product are accessible right from the product page so you ca hear reports of if the product is actually working for people or not.

The website is clean and easy to look at. This site is so well organized it is hard to realize the wealth of information the site actually contains. Much of the information is hidden under slides and tabs making the vast amount of information easy to access without making the site feel cluttered. The article section has a good amount of information and the blog has even more. It is nice that the blog and the articles are all contained within the site instead of sending you somewhere else for becoming more informed which was the case on other essential oil sites we visited.

The site loads quickly and adapts for different devices so it will look great on your phone, tablet, or desktop.
Education
There are several ways you can become more informed through their website and materials. They have a free 72 page guide that showcases their products, how to use them, and even offers recipes. They also have a section on their website where they have a list of suggested courses and recommended organizations for further education. You can also sign up for their newsletters as well as visit their blog which has a wealth of information from some very knowledgable individuals. While there are a ton of materials they point you to and connect you with, the education materials are not organized all in one place which would be nice.
Customer Service
Phone and Email Support
*Review of their phone and email support is coming soon and may affect their overall rating.
Refund Policy
Their refund policy is excellent. You have a 90 day money back guarantee. If you are unhappy for any reason, simply send back the bottle(s) within 90 days from date of sale and they will refund your product purchase.
What Others Are Saying
We were impressed with the amount of reviews and positive customer feedback. They have over 700 reviews on reseller ratings alone and they had an overall score of 9.67 out of 10. There were mixed reviews of certain products such as the skin tag remover where people were saying it did not work for them but then we came across customers who claimed it was the only thing that did work. Overall there were tons of reviews of happy customers that had great results for many of their products and the negative reviews were few by comparison.
Have you ordered from Amoils? Please provide your review below. We would love to know what your experience was.
Shop for Amoils Healing Natural Oils on Amazon